Paper
Paper, a disposable commodity that we all take for granted? We want to change the narrative around this versatile material with a carefully curated exhibition that focuses on paper as a creative medium.

Paper was first introduced in China almost 2000 years ago for capturing writing and drawings. In the 8th Century the Chinese paper making technique spread
to Central Asia where it was soon adopted in Egypt and Morocco before finally reaching Europe. The first recorded paper mill in the UK was Sele Mill near Hertford.
Our Paper Exhibition seeks to endorse the individual nature of paper based art through a display or wall art, sculpture, paper clay ceramics and stationery products.  We hope to share our love for this fascinating and diverse medium, and maybe change some perceptions along the way. As with all our exhibitions this show is only open to UK based artists and designer-makers.
21.01.24 - 21.04.24
Christmas At Heart
This will be a great opportunity to buy eye-catching and unusual gifts from a unique selection of contemporary craft brought to you by a carefully curated selection of established and emerging UK based makers all coming together for this wonderful winter show.
Brighten up those dark days with
our joyful and sparkling selection of gorgeous gifts for Christmas.
With quality and originality guaranteed, and price ranges to suit all budgets, Heart Gallery has rapidly built an enviable reputation as the destination at Christmas to find something unique for everyone you need to buy for made by a broad selection of the best artists, designers and makers in the UK, and all under the one roof.
Late night Christmas shoppping Thursday 23rd November, open 11am - 8pm.
05.11.23 - 14.01.24
A Sense Of Place
How do you capture "a sense of place"? What does that mean to you? It is such a broad concept that can mean so much more than just the physical attributes of a location. It can, among other things, refer to a location or moment in time we can identify with and that feels special, be about memories or a cultural belonging. 
Do you have somewhere special to you, a place or moment in time that perhaps brings back wonderful memories? We all experience places differently, whether they be big or small, real or imagined.
A Sense of Place showcases a diverse range of creative responses by fibre and textile artists, makers and jewellers, each translating their sense of belonging through textiles. 
Using stitch, weave and mixed media the artists' sense of place is communicated through texture and colour, combining to create an atmosphere that
bursts into life.
02.07.23 - 03.09.23
HOME by Kate Lycett
It's been 5 years since Kate's last exhibition in Hebden Bridge, and a decade since her first ever exhibition at Heart Gallery. Kate has lived in the valley for 18 years which is longer than she has ever lived anywhere.  

Kate grew up in rural Suffolk and when she first moved north she found that city living sheltered her from the seasons and the elements. 
Kate was warned when she moved here that Hebden winters were hard. But she has lived here long enough to know what date after Christmas the sunlight shines though her windows again. To love the way the old Zion chapel glows in the winter sun up at Birchcliffe, when the rest of the valley is still dark. She knows when the moors are purple with heather, and when the edges of winter trees soften with yellow green buds. When certain trees start to turn for Autumn, and which ones hold their leaves the longest. She also enjoys the antics of the Hebden Bridge Geese, and the streets that have the best washing lines. 
All these things are peculiar to knowing a place so well; the sounds and smells and colours of it. The rhythms and the characters of it! Kate can't paint anywhere in quite the same way as she paints 'Home'.
11.05.23 - 30.07.23
Home - Ceramic Showcase
HOME will be our solo show with local artist Kate Lycett and our first exhibition with her since before the pandemic so of course we are pretty excited about this. Kate also learned new skills during and after the lockdowns so she will be introducing new work to our collectors and customers. Her woodcarvings are small but intricate and we will be displaying Kate's A-Z of Hebden Bridge alongside her much loved hand finished paintings of our locality.
In our main gallery we will be showcasing sculpture and ceramics that fit with this same theme of HOME. We all have very different meanings of what or where home is but it was very clear that the last few years many of us appreciated our space more than others. Home isn't necessarily a house, it can be other forms of abodes such as tents, boats, campervans, and it can be considered to extend beyond the space we live in ie some consider the
area they reside as home not just the structure they live in. What we surround ourselves with at home is a very personal thing so we hope that our carefully curated collection of objects that can be removed from home and taken to a new home will delight and speak to you.
11.05.23 - 30.07.23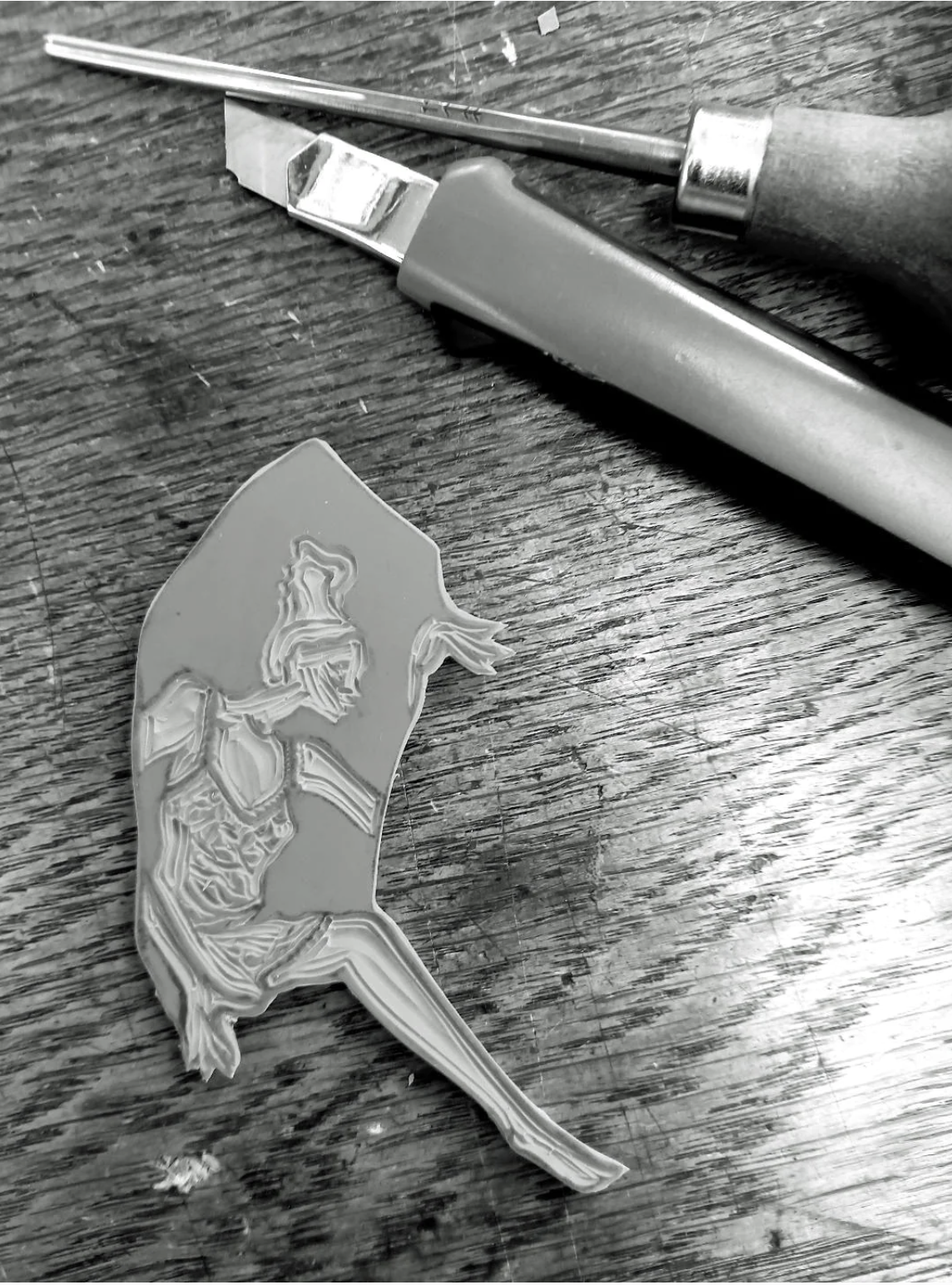 Pretty In Print
A celebration of UK printmaking in all its many wonderful forms. Our carefully curated exhibition embraces the diversity of materials and techniques used within a process that has its roots in the Han Dynasty. The earliest known example, a woodblock print
on silk, has been dated to sometime between 206 B.C. and 220 A.D. with the first print on paper following during the seventh century.
Pretty in Print seeks to endorse the individual nature of hand printed work, even when items are presented as multiples. We firmly believe that hand printed/pressed artwork and products are 'original' in form due to the human placement and alignment of plates/blocks/stamps etc. We hope to share this love, and maybe change some perceptions along the way, with a selection of wall art,
jewellery and products sourced from UK artists and designer makers.
29.01.23 - 16.04.23