Each of Sandy's designs begins with a combination of pen and ink line drawings coloured with water colour washes. With the meticulous use of a drawing tablet, fine brush details are added by Sandy.
Sandy's designs are then completed by digitally combining her hand rendered elements with layered fragments of digital photography and collage.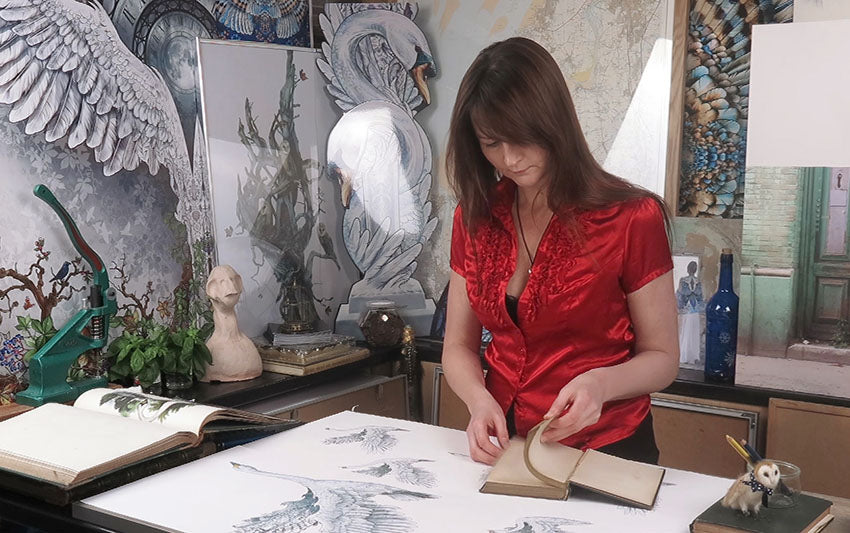 Sandy's artwork has been commissioned  by leading publishers and renowned clients including Penguin Books, the Decca Record Company, Amnesty International, Transworld, Hodder, Harper Collins, Bridgewater, Maggie's Cancer Care and the Wildfowl and Wetlands Trust WWT as illustrations, book covers, CD covers and bespoke scarf designs. She has fulfilled commissions for large illuminated installations for Light Up Lancaster and the Arts Council and also created interactive murals for music festivals, events companies, restaurants and wedding venues.
Average days involve packing orders then cycling to the local post office, before taking a long circuitous loop home along the river, sea front and canals of the local area.... always on the lookout for wildlife, always with her camera.

Holidays are spend in the sea. Sandy is a water baby and will hike to remote beaches to spend hours snorkelling in the ocean, looking out for beautiful creatures such as octopus, squid and eagle rays.